58 years of handmade creation
and excellent collaborations!
It is true that artwork created by hand preserves its value throughout the years. Having studied ancient Greek art and craftsmanship of metal processing, we create in our workshops selected artwork.
The method we use, Electroforming, gives us the ability to have results of great detail in the copy produced, since our know-how in mold creation gives us the ability to work with original findings without spoiling them.
More than five decades now, the creation of such artwork in museum replicas, sculpture, jewelry, interior decoration and business gifts, is the exclusive BUSINESS of the Philippakis workshops.
Working with various materials, such as, silver, copper, bronze, aluminum, marble and resin, we create artwork of high aesthetic. Absolute consistency, creative mood and above all, guarantee of originality characterize each and every cooperation that we engage in.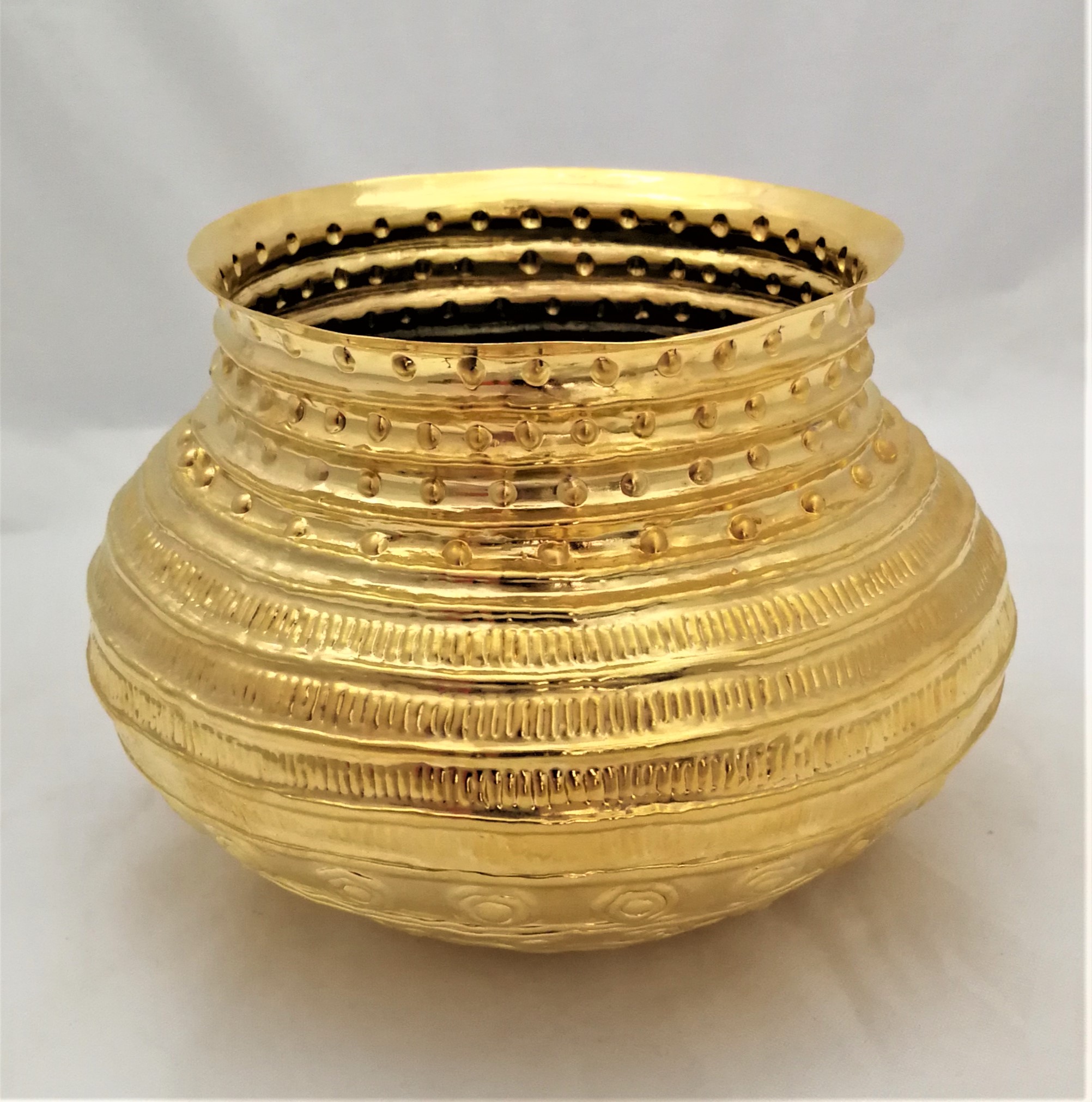 Bronze gilded 24ct copy cup, Berlin Museum.
Our constant devotion to quality is certified by our long-term cooperations:
Benaki Museum, Athens | Museum of Cycladic Art – Nicolas P. Goulandris, Athens | Jewish Museum of Athens & Thessaloniki, Athens | Holly Monastery of Kykkos Museum, Nicosia, Cyprus | Holly Monastery of Ekatontapyliani, Paros island | Historical Archives – Nautical Museum of Hydra, Hydra Island | Zoumboulakis Art Galleries, Athens | Martinos Art Gallery, Athens | Astrolavos Art Gallery, Athens | "Mageia", Art Gallery Ileana Makri, Athens | Elena Votsi, Kolonaki Athens, Hydra island | ART POINT, El. Venizelos Athens Airport, Spata | Cultural Organization of the Municipality of Athens (O.P.A.N.D.A) | Nautical Museum of Nea Koutali, Lemnos Island
Other major cooperation's are:
Berlin Museum Island, Berlin | National Archaeological Museum, Tokyo | National Geographic Museum, Washington D.C. | The Field Museum of Chicago | British Museum, London | Louvre Museum, Paris | Musee National d' Histoire et d' Art (MNHA), Luxemburg | Antikenmuseum Basel und Sammlung Ludwig, Basel, Switzerland | National Archaeological Museum of Athens | Pieridis Museum of Cypriot Art, Cyprus | "Thalassa" Museum, Ag. Napa, Cyprus | Archaeological Museum of Nicosia, Cyprus | The Municipal Cultural Center of Nicosia, Cyprus | Collections Helleniques S.A. | Athinais Cultural Center, Pierides Museum, Athens.
Well-known artists in Greece and abroad:
Georgia Kotretsos | Tsagari Maria | Marios Voutsinas | Ileanna Makri | Elena Votsi | Elena Syraka | Alexandra Koumba | Nikos Navrides | Athanasios Argianas | Micheal Kassapis | Costas Sachpazis | Stelios Gavalas | Lida Papakonstantinou (performer) | Georgios Kastriotis | Sokratis Socratous (Hermes Stores Athens) | Petros Vlitides | Bajo Arben
Philippakis workshops were also engaged in various decorative works, such as,
Mirabello Hotel in Agios Nicholaos in Crete (GRECOTEL EXCLUSIVE RESORTS) | The Athens Hilton Hotel | National Tourism Organization (Interior Decoration) | Restaurants and retail stores in Greece and abroad.
We also accept requests from companies, organizations and individual artists interested to create something unique for a specific occasion / event. For example, gifts for personal exhibitions, annual dealers' meetings, special business celebrations, Christmas gifts and other personalized and promotional events.
Parallel to the above mentioned cooperation we have created a separate decorative line -"Philippakis Art Originals" – which consists of frames depicting themes mainly from Ancient Greece. They are made by silver-plated copper, with coloring created by natural oxidation of metals, as well as, other decorative items, such as, paper-weights, knives, helmets, clocks, made of bronze, copper, aluminum, combined with marble and wood. www.museummasters.gr where with one click you can make your purchases online.
"Philippakis Art Originals" art items are accompanied by a full description of the finding in Greek and English and bear as guarantee of originality our trademark and signature.
We are a member of the Hellenic Chamber of Craftsmen and the Panhellenic Association of Folk Art Craftsmen (www.handicraftgreece.gr)
Object from our collection.